The past year has been unique and challenging in many ways. It has also provided us the opportunity to reflect on values and things we hold dear. In many cases, this includes a greater appreciation for the community around us which allows us to thrive. This quarter, we have decided to replace our typical Tax Corner article with a spotlight on a local organization that has been an integral part in building the local community over the past 100 years, and through many collaborative initiatives, has made an impactful difference in helping those less fortunate weather the storm of the past 12 months; the Community Foundation for Greater Buffalo.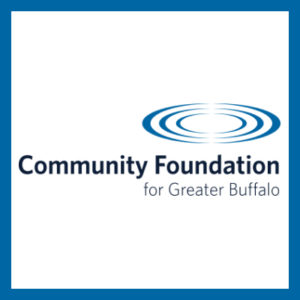 Making the Most of Your Generosity
As Western New Yorkers, we want to be able to do good in our community and make a positive impact today, tomorrow, and forever. That is true now more than ever, as we not only work to address the current challenges we all face in the wake of the pandemic, but also continue to support the future of the organizations, causes, and communities we care about.
Doing good means something different to each one of us, and these distinct values that every individual, couple, and family possesses influence charitable goals. We recognize that your giving is as unique as your fingerprint. For more than 100 years, the Community Foundation for Greater Buffalo has worked with clients to provide customized and flexible solutions to connect people, ideas, and resources to improve lives in Western New York so people can give back in the way that is most meaningful to them.
The Community Foundation hears time and time again from clients that they are focused forward on the future of their families, their legacy and that of the organizations and communities they care about. Whether you are a teacher who wants to support education forever, part of a family foundation who wants to pass along a legacy of giving to your children and grandchildren, or a proud Western New Yorker who wants to know your hard earned dollars are still making a difference a hundred years from now, there is no limit to how you can make an impact.
Working closely with clients, the Community Foundation can be a philanthropic partner to make the process of giving easier, more efficient, and impactful. Clients can personalize their plans and: Establish a fund or foundation during their lifetime or as part of their estate plan; give in Western New York and across the globe; support specific organizations, issues and communities they care about; give individually and/or as part of a collective effort; engage their children or grandchildren as future successors to their fund or foundation; and/or give over a period of time or create a perpetual source of funding.
Most people want to leave a legacy; some proof that their life made a difference. Legacy Funds are ideal for families and individuals who want to support organizations, issues, and communities that meant the most to them during their lifetime.
The Community Foundation works with clients to ensure their wishes are documented and carried out as intended, in their names, forever. Legacy funds provide you with the flexibility and simplicity to include your fund as a beneficiary of your Will, trust, or retirement assets. Choose one or a combination of options that can support specific organizations, issues or areas of need, or the changing needs of our community over time.
How will you leave your mark on Western New York? While that part is up to you, the Community Foundation will work with you to make your charitable goals a reality.
To learn more about the Community Foundation, please contact Betsy Constantine at (716) 852-2857.